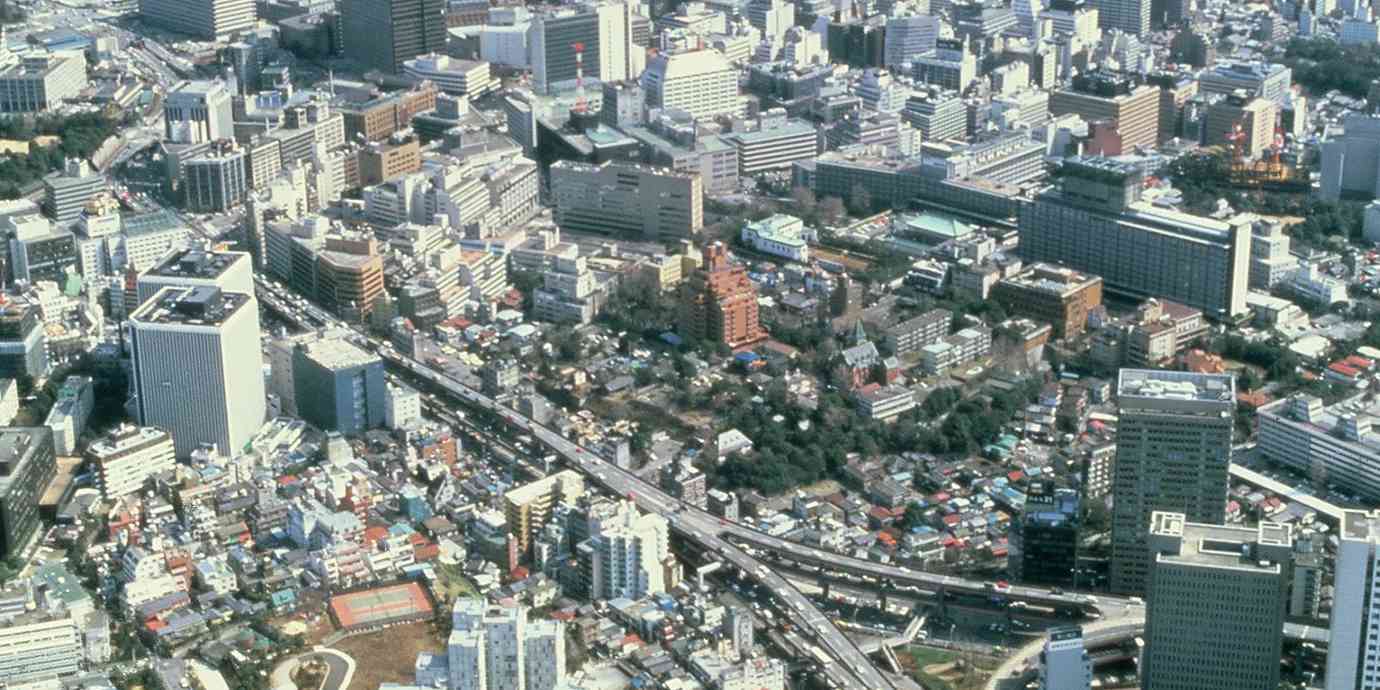 ARK Hills is the first project to break out of Mori Building's large-scale composite redevelopment project. Back in 1967, the Mori Building has acquired the first land in this area and has been spending 19 years of time since receiving administration designation suitable for redevelopment. It is no exagardation to say that the philosophy of Mori Building's city development has supported this enormous amount of time and energy.
Development history chronology
1971年

Tokyo Metropolitan Government "Survey on suitable land for redevelopment" is conducted,

1973年

Minato-ku "Redevelopment Basic Plan" announced

1978年

Akasaka Roppongi District Redevelopment Preparation Association established

1979年

Urban planning decision notice

1982年

Akasaka Roppongi district urban redevelopment association established establishment

1983年

Rights conversion plan approval

1983年

Construction

1986年

Date completed
Facility Planning
For realization of advanced utilization, we compiled 5.6 ha as one block and developed a folded narrow road (total area of ​​2,000 m²) before development as a 12 m and 8 m outer circumference (7,000 m 2). All the ward roads in the old district are abolished, and a new outer circumference road is taken as the new construction ward road. In addition, this circumferential road has grown to a row of cherry blossoms that is now considered as a specialty and entertains many people during the period of flowering.
Along the radiating line of a 40 meter wide road running on a highway, we arrange a hotel with a high-rise, volumey office and a hotel, on the southern hill with good sunshine conditions, the 6th floor, the 21st floor, the 25th floor We have three houses in total. Between the residential building and the office building, we created a square and we set up a TV studio in the area facing the square and in the basement. In addition, on the north side of the residential building, a low-rise concert hall is placed facing the square and we are considering the environment to existing houses next to the north side. Commercial zones along the trunk line carry a so-called "movement of the volume" according to the "comprehensive design method of housing complex" that the volume is increased (office / hotel) and the cultural and residential zone in the south side keeps volume .
Also, the area is located on a hilly area, and there is a height difference of about 20 m in the area, but by using the difference, we are creating a gradually open field square. With this three-dimensional square and pedestrian path composition by maintenance of the pedestrian deck, it became possible to secure an open area ratio reaching 55%. In planning development, it is important to balance the uniformity of the entire district with the individuality of each building, but while maintaining the skeleton of the city as a town, the identity of the city called ARK Hills, each building has individuality according to its personality I thought that it could be demonstrated.