We pay in half ticket ♪ ARK Hills SUNTORY HALL ticket preferential treatment services
What is Suntory Hall Ticket Promotion Service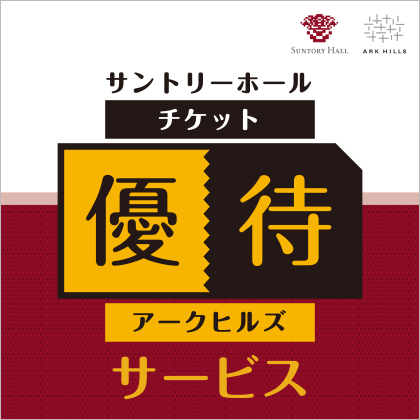 If you show the Suntory Hall tickets (semi-ticket) on the day of use on the service member franchise of ARK Hills, you can use discounts and special offers such as limited menus.
※ご利用前のチケットでも優待サービスをお受けいただけます。
※チケット1枚(半券)でアークヒルズ(アーク森ビル、アークタワーズウェスト、アークヒルズサウスタワー、仙石山森タワー)内の複数のサービス加盟店舗でご利用いただけます。
Tickets subject to service
お問い合わせ:森ビル株式会社 商業施設事業部 赤坂・虎ノ門エリア店舗運営室 03-6406-6665(平日10:00〜18:00)
Precautions for use
This service is intended for customers who ordered food by using meals and cafés (there are partially excluded stores).
Present your ticket when ordering food.
Some items may be excluded.
It is effective only for tickets (semi-tickets) where the date of use is stated (business hours may vary depending on stores).
Only the person who presented the ticket (half ticket) will be valid.
Can not be combined with other campaign / discount.
Preferential treatment service contents are subject to change without notice. Please note.